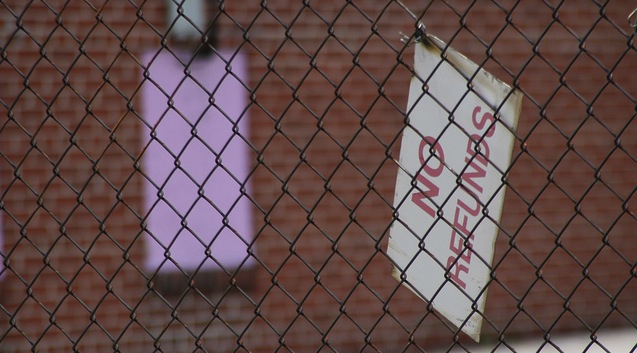 When you buy a pre-made product, whether a sweater at the mall or a digital course from an online marketing guru, asking for a refund when you're unhappy is a perfectly normal thing to do.
Stores always have a refund policy in place, often spelled out clearly on the receipt or a sign near the cash register. Online sales pages usually include a 30- (or 60- or 90-) day money-back guarantee as part of the sales pitch, so that the customer feels more confident buying the product.
But how do refunds work with service businesses?
More specifically, your service business?
Customer Service Nightmare Numero Uno
If you thought your maid didn't do a good job cleaning your house, would you just tell her you weren't satisfied and refuse to pay her?
There may be some out there that would try to pull such a stunt, but in general, it's much harder to refuse to pay someone when they are standing right in front of you.
Unfortunately, for those of us who deliver our work online or by phone, a.k.a. the lion's share of freelance moms, some people seem to think it is okay to not pay for services rendered and simply cut off communication when they aren't happy with delivery in the impersonal, physically-separate world of freelance work.
Even if you think of yourself as a creator rather than a service provider, service is a key part of all solo and small businesses.
If you create websites, your website design doesn't come out of one simple online order from a client (and chances are much higher they wouldn't be happy if it did work this way!). You no doubt have multiple conversations by phone or email, design reviews, and edit stages to your process, whether it is formal or not.
Web design is obviously a complex process, but as I mentioned, it is actually in the more simple custom product builds that the refund issue can become more pronounced.
Say you are a graphic designer that specializes in logos. Encapsulating an entrepreneur's brand in a single image is a tricky proposition, and sometimes, after three rounds of designs, a client can just decide that you don't get it and move on without paying you for the time you've put in so far.
What to Do When Rough Refund Requests Happen
Let's look at two real-life, freelance work situations where refund requests can come up, and how you could handle each.
Situation 1: You are a social media consultant who has worked with a client for about six months running their Twitter feed and Facebook page. The client decides she wants to get involved with "those photo social media things," and asks you to set up accounts on Pinterest and Instagram.

Your current work doesn't have a contract, but the client pays promptly, so you start to set up these new channels without discussing payment or setting up any formal agreement.

The client, of course, doesn't realize that these social media accounts, unlike Facebook and Twitter, require a bit of pre-population and backfilling, so when you bill her at your usually hourly rate for creating these accounts, she pays the bill but then emails you a week later to say she is shocked by your recent invoice amount and wants a refund for the "extra hours."

What do you do?
This situation is particularly difficult for a few reasons:
You have on-going work with the client, which you may, for financial reasons, need to retain after this situation
You did not quote the client or clarify with the client the work involved to make sure everyone was on the same page
You did technically do what the client asked, but not in their view
What you can try to do—and I highly suggest you do this over email to make sure you have a paper trail—is respond with a compromise that allows you to be paid for this work and thus keep the relationship in good standing while allowing the client to pay in a way that works with her budget.
Now let's look at a situation that is harder, because you don't have an existing relationship with the client.
Situation 2: You have had a bad feeling ever since you picked up this client's sales brochure design project.

They approached you out of the blue through your website, but rather than feel flattered, you couldn't help but feel they were a bit distant and curt, not like your usual client, with whom you would try to build a long-term relationship.

Since the initial approach, you have not gotten any specifics or feedback on the design beyond, "sure" or "that sounds fine." You received an initial deposit for the work, but are billing for the remaining two thirds on delivery.

Sure enough, after you submit the final design and files (for which you received a simple "thanks" via email) and send a payment request via PayPal, you receive an email from the client saying, "This isn't what I wanted. Please refund my deposit."

What do you do?
In this situation, you want to take a less delicate approach for a couple reasons:
You are not planning to work with the client again, because their style will only produce similar issues in the future.
You have not built trust with this client through previous payments, and it seems very likely that you will not see a cent for the work you've done without some serious intervention techniques.
You don't want to drop the litigation bomb too soon, and since it seems like this client has a high potential of just disappearing, you need to tread extremely lightly.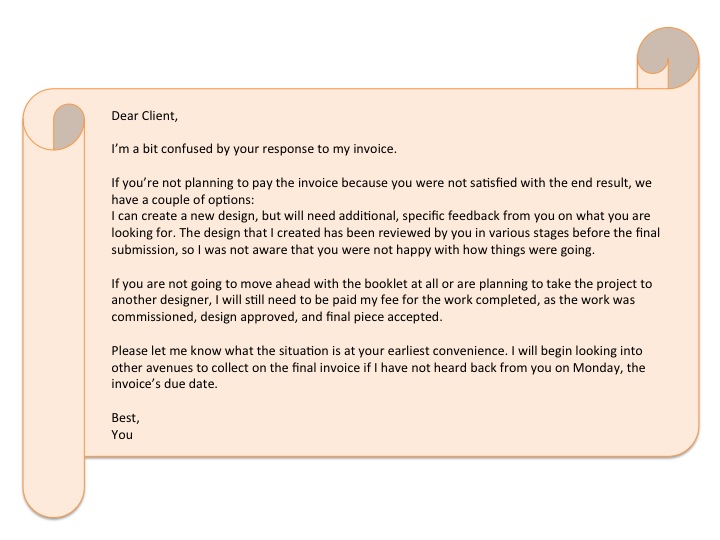 Like Most Things in Life, You're Safer with Advance Protection
I'm not going to ask if you have a contract with each and every one of your clients. (You should, but I know many freelancers don't, and I don't want to distract from the topic at hand. You can read more about contracts here.)
But if you already have a process for delivering and finalizing contracts, it's an easy fix to simply add or tweak a few clauses to make sure you are protected.
Make sure your payment terms are clear. And tied to delivery, not acceptance as much as possible.
Add a clearly worded refund policy. This may simply be that no refunds are possible or the conditions under which you will issue them and the evidence the client needs to submit to obtain the refund.
Include a legally-sound section on indemnification. You can consult a lawyer if you have one easily available or borrow from a lawyer-reviewed contract you have with another client or find online, but the key here is to make sure you are protected if the client tries to come after you for losses because of delays due to their dissatisfaction with your work.
Don't use contracts? You're in luck.
When situations like this come up, legal action is not typically required or worth the time and money, but the threat of it is almost always enough to get a stubborn client to pay up.
But how can you threaten legal action without a contract?
Use your website!
Include a section on your website, whether specifically on the FAQ, "hire me," about, or contact pages, or in the fine print with the copyright information at the bottom of every page, detailing your policies clearly, along with the date the information was published or the policy established.
Just as businesses are required to take out ads in the newspaper to advertise their business names so the public has the opportunity to contest, making your policies clearly available in a public place gives you a legal footing to intimate or pursue action in the case of severe non-payment.
Have you ever had a client ask for a refund? What did you do? Is there anything you wish you had done differently?
Want more?