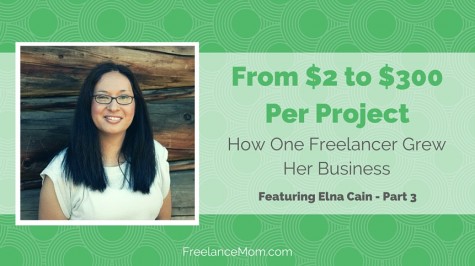 Welcome back to FreelanceMom's "How to Grow Your Freelancing Business" three-part series! Elna Cain joins us again to continue the discussion of her freelancing journey.
In Part One, we learned how Elna started freelancing. In our Part Two, Elna told us how she grew her business throughout the first year. Today, Elna discusses with us where she is today and where she plans to take her freelancing business in the future.
Supplementing Her Income
One of the ways that Elna has grown her business is by expanding her services. At one point, she was offering social media marketing services as well as designing and formatting eBooks. Today, along with blog writing services, she also writes website conversion copy and designs feature images for blog posts and Pinterest.
It's not just the blogging and writing clients she's serving, either. In August, 2015, she launched coaching services for aspiring freelance writers. She currently charges $60 for 30-minute coaching sessions and is helping over a dozen freelance writers find success by offering support, strategies, and actual job leads to them.
In November, 2016, just over a year after deciding to freelance, Elna launched her first online course.
"I wanted to make the course super affordable for everyone, as well as provide loads of extra bonuses like video tutorials, a private Facebook group, coaching, pitch reviews, case studies, and extra guides."
And that's when her first paid writing course was born. Write Your Way to $1K is designed to teach freelance writers how to launch their own business. Elna has established several pricing models for her course. The Basic package starts at $67, the Advanced at $97, and the Strategy at $177.
Right now, writing accounts for approximately 70 percent of Elna's income while coaching and course sales make up the other 30 percent.
Raising Her Rates
In part two of this series, we saw that Elna was charging between $0.12 and $0.20 per word for blog content around her 10-month mark. But like any freelancer who wants their business to grow, Elna continued to raise her rates. Today, she's charging $0.20 per word for bylined content and $0.30 per word for ghostwritten content—and she's less than a year and a half into her career!
Her rates fluctuate for copywriting and graphic design since these are new services and she's still testing the waters of where she's comfortable at.
How She'll Continue to Grow
Elna's freelancing business is far from finished growing!
In 2016, she plans to:
Set up an affiliate program for her paid course
Offer website set-up services for new freelance writers
Launch her own content, marketing, and design company!
Today, she has to turn down clients because she just doesn't have the time for them all!
Needless to say, she's an ambitious solopreneur, but she didn't get to where she is by magic. What started as $2 per blog post has grown into hundreds of dollars per piece, but it took a lot of hard work and learning.
How You Can Grow Your Freelance Business
Though Elna started working at low prices, she's proof that it doesn't take long to increase your rates and grow your freelance business. Elna has shown us that to grow, you have to:
Cultivate your skills from day one – Elna saw what it was like to write for content mills. She quickly took a step back and realized that if she was going to make a true business out of writing, she had to take time to learn more about the field rather than jumping in head-first and expecting decent pay from day one. It took her two months to make her first $1,000, but she was actively learning the whole time.
Learn from your mistakes – Throughout this series, we've read about several mistakes Elna made, from miscommunications to taking lower paying gigs than she wanted. Not only can we learn to avoid these mistakes, but we can also see that mistakes shouldn't set you back. Even though Elna knew she had a lot to learn, she made it past her mistakes and continued to strive toward a better business.
Don't undervalue yourself – This is perhaps one of the most common mistakes in freelancing, and it's the single biggest mistake that will keep your business from growing. If you aren't confident raising your rates or don't think your skills are good enough to offer new services, you'll end up stuck where you are—or you may even start moving backward as you get more comfortable negotiating lower rates. You don't have to say "yes" to every potential client, especially if they can't see your value.
Set goals for yourself – As you can see with Elna's story, she's accomplished a lot in the last year and a half, but it certainly wasn't all handed to her, and it didn't come without her drive to succeed. The reason she has found so much success is because she outlines her goals and knows where her business is headed. For example, if you decide to grow your business this year by supplementing your income, you should know in what ways you will supplement it, how much you plan to make from your new service, and when you plan to accomplish this goal. Other specifics should be outlined as well. For example, if you're offering a new service, how will you market it?
Don't give up – There's no doubt about it. Starting a business can be a lot of hard work with little returns in the beginning. It's enough to make you want to give up, but it's the people who continue to plug through the initial stages who eventually get their success to snowball and grow their business. Stick with it and follow the abovementioned tips, and you will see success.
As Elna Cain has shown us, growing your business to a comfortable income in a short amount of time is possible. Raising your rates with each new client to grow your business is possible. Living the freelance life you want is possible. It all starts with dedication.
Are you ready to take your business to the next level?
Let us know how Elna's story has inspired you and what lesson from this three-part series you'll take with you to make it happen.
THANK YOU Elna for sharing so much insight with us!